Cost-Effective House Construction with Jade Homes: An Unbeatable Approach
Constructing a house is often a major investment and an important milestone in a person's life. At Jade Homes, we understand the significance of this journey and make it our mission to provide cost-effective house construction without compromising on quality. With an impeccable reputation as the best home construction company in Delhi-NCR, Jade Homes has been the go-to choice for many homeowners in the region. Our commitment to on-time project schedules, realistic budgets, apt project timelines, and unwavering customer satisfaction has earned us this status.
What Sets Jade Homes Apart
Jade Homes stands out in the crowd due to its strong emphasis on customer satisfaction and realistic project management. We understand that constructing a new home can be daunting for many, and that's why we strive to make it as stress-free as possible. Our project management key points include:
Strict adherence to project schedules.
Complete flexibility and control on your project
Transparent specifications and pricing
Maintaining a relentless focus on customer satisfaction.
This unique approach gives homeowners complete control over their construction projects, ensuring they're always in the loop and that the final result aligns perfectly with their vision.
Tips for Cost-Effective House Construction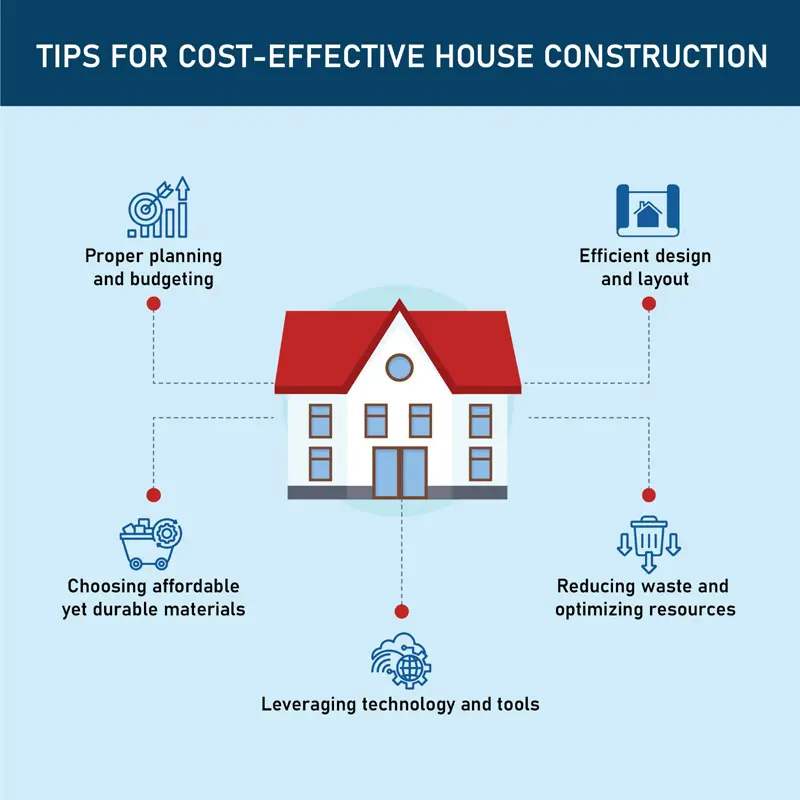 Cost-effective house construction doesn't mean cutting corners; it's about making smart decisions that help you save money without sacrificing quality. Here are some tips that Jade Homes adheres to in every project:
1.Proper planning and budgeting: Before we start, we work closely with our clients to understand their needs, preferences, and budget. A clear plan and a realistic budget are the first steps towards cost-effective construction.
2. Choosing affordable yet durable materials: We use materials that offer the best value for money. This doesn't mean we use cheap materials; we opt for affordable options known for their durability and performance.
3.Efficient design and layout: Our team of architects and designers optimize the layout to maximize space and functionality. We aim for designs that are beautiful, practical, and energy-efficient.
4.Reducing waste and optimizing resources: We practice resource-efficient construction methods to minimize waste and use resources judiciously. This not only saves money but is also better for the environment.
5.Leveraging technology and tools: At Jade Homes, we harness the power of modern construction technology and tools to improve efficiency and reduce costs. We continuously update our techniques to stay ahead in the field.
Why Choose Jade Homes for Cost-Effective House Construction
At Jade Homes, we offer a complete range of customized construction services tailored to your needs. Our experienced team brings expertise in cost-effective construction, ensuring you get the best bang for your buck. We employ modern construction technologies and efficient practices to streamline the process, resulting in savings we pass on to you. Our pricing is transparent, with no hidden costs, so you always know what you're getting into.
Benefits of Cost-Effective House Construction

Cost-effective house construction with Jade Homes offers several benefits:
Savings: You save money without compromising quality, getting a dream home that fits your budget.
Sustainability: Our resource-efficient construction methods contribute to sustainable practices, reducing your home's environmental footprint.
Increased Property Value: Cost-effective construction can enhance the value of your property, making it a smart investment.
Timely Project Completion: Our efficient practices and transparent project management mean your home will be ready on time, as promised.
Successful Projects and Happy Customers
Our portfolio showcases numerous successful, cost-effective house construction projects, each reflecting our commitment to quality and customer satisfaction. Our clients often become part of the Jade Homes family; their testimonials highlight their trust in us. From single-family homes to sprawling mansions, our projects represent diverse styles and budgets. This versatility has earned us a loyal clientele who repeatedly trust us with their construction needs.
Conclusion
At Jade Homes, cost-effective turnkey house construction is a strategic approach that combines careful planning, smart decisions, and efficient practices. It doesn't mean cutting corners or settling for less. Our approach offers a win-win scenario where you get a high-quality home that fits your budget. We're committed to making your dream home a reality, one brick at a time.
Contact Us Today
If you plan to build a cost-effective house in Delhi-NCR, look no further than Jade Homes. Contact us today for more information on our services, and let us help you bring your vision to life. Your dream home is just a call away.
Jade Homes is dedicated to turning dreams into reality, and we're excited to be a part of your journey. Let's build a future together.