Embracing the Future: Home Building Trends 2023 with Jade Homes
Introduction
In today's fast-changing world, the design and construction of homes are evolving to meet the unique demands of modern living. As the leading home construction company in Delhi-NCR, Jade Homes is proud to be at the forefront of these exciting developments. This blog emphasizes the key home-building trends expected in 2023 and how Jade Homes incorporates them into our projects.
About Jade Homes
Jade Homes stand out in the construction market for its unwavering commitment to complete flexibility and control in every project. We have an experienced team of engineers who replace local contractors/builders, ensuring a level of expertise and precision that is hard to match. Our transparent specifications and pricing help our clients make informed decisions with complete peace of mind. Post-delivery, our dedicated warranty team is ready to address any teething issues. Jade Homes has a reputation for making home construction easy, transparent, and accountable with Project Management tools that keep the client involved and in control of the process.
Key Home Building Trends in 2023
As we look ahead to 2023, several exciting trends are set to shape the home building industry.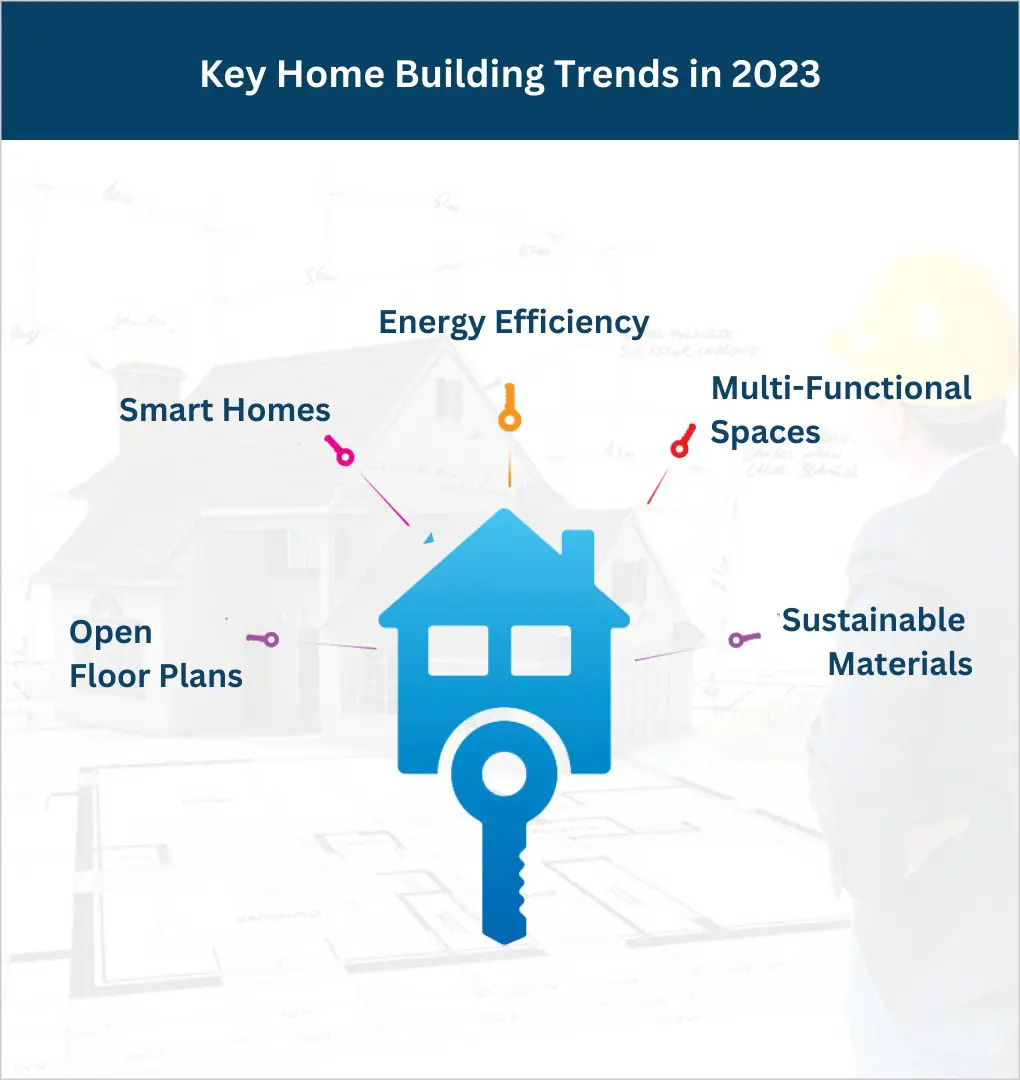 1. Energy Efficiency: Energy efficiency is no longer a choice; it's a necessity. Homes incorporating energy-efficient construction methods and materials reduce the environmental footprint, lower utility bills, and enhance comfort.
2. Smart Homes: Smart home technology is becoming integral to modern living. From smart thermostats to voice-controlled lighting, integrating technology is making homes more convenient and user-friendly.
3. Sustainable Materials: Using eco-friendly and sustainable construction materials is a trend here to stay. More homeowners are choosing materials that are durable, stylish, and environmentally responsible.
4.Open Floor Plans: The open-concept living space continues to be a popular design choice. Open floor plans foster a sense of community, make spaces feel larger, and improve the flow of natural light.
5.Multi-Functional Spaces: As people spend more time at home, there's a growing need for versatile rooms that can serve multiple purposes, such as a home office that doubles as a guest room.
At Jade Homes, we pride ourselves on staying ahead of the curve. We are incorporating the 2023 trends into our construction projects to deliver modern, stylish but also comfortable, and functional homes.
Client Stories: Building Homes for the Future
Our clients are at the heart of everything we do. We've had the privilege of building homes for many satisfied customers who have experienced the advantages of the 2023 trends.
One of our recent projects involved a family that wanted a home with a minimal environmental footprint. We used energy-efficient construction methods and materials to build a comfortable home, reduce energy costs, and lower their carbon footprint.
Another client wanted a home with the latest smart technology. We integrated voice-controlled lighting, smart thermostats, and security systems, enhancing the convenience and security of their home.
Looking Ahead
As we look ahead to the future of home construction, it's clear that the trends of 2023 are set to continue shaping the industry. We're committed to staying at the forefront of these developments at Jade Homes. We'll continue to incorporate the latest trends into our projects, ensuring that we're delivering homes that are modern, stylish but also comfortable and functional.
Build Your Trendsetting Home with Jade Homes
The home-building trends of 2023 offer exciting opportunities to create energy-efficient, smart, sustainable, and versatile homes. At Jade Homes-Best Home Construction company in Delhi-NCR, we're proud to be leading the way in incorporating these trends into our projects. With our commitment to flexibility, transparency, and accountability, we're delivering homes that meet the unique demands of modern living.
Are you ready to build a home that reflects the latest trends? Contact Jade Homes today to start your journey towards a modern, stylish, and comfortable home.